Welcome BA/MD Students
Letter from the Director
Welcome to the UNM Arts and Sciences website for the Combined BA/MD Degree Program.  The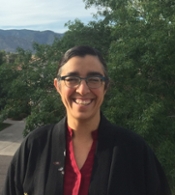 Combined BA/MD Degree Program at the University of New Mexico began in 2006 with a mission to help address the physician shortage in rural and under-served areas of the state.  A collaboration between the College of Arts and Sciences and the School of Medicine, and funded by the New Mexico State Legislature, the program admits 28 students a year from high schools all over New Mexico and the Navajo Nation who are committed to becoming doctors and serving the state.  The students receive financial support and a conditional admission to the School of Medicine. 
Students in the Program take their pre-medical core science classes in small specialized sections and study a series of social science and humanities courses designed for future physicians: The Health, Medicine and Human Values (HMHV) curriculum.  In the summer following their sophomore year, they have a practicum immersion experience where they spend a month living and serving in a rural community in New Mexico.  They gain first-hand insights into the rewards and challenges of practicing medicine in a rural environment by shadowing local physicians and completing a community health project. 
The BA/MD team here in the College of Arts and Sciences consists of faculty from many different disciplines, staff, administrators and advisors who are all committed to the mission of the Program. We work together to enable a rich, fulfilling and flexible undergraduate experience and to support our students to become the best possible doctors to serve New Mexico. 


Sushilla Knottenbelt, Arts & Sciences Director
Combined BA/MD Degree Program